Skillset First Aid
'The Best Value First Aid Training in Leicestershire'
Courses held at our training centre at:
2 Digby Drive, Melton Mowbray Leics LE13 0RQ
Telephone 01664 560483 Mob 07455 390301
Email sales@skillset-fa.co.uk
YOU CAN BOOK AND PAY ONLINE OR IF YOU PREFER, CALL OR EMAIL TO BOOK
Regulated First Aid Training
Our courses are Regulated Qualifications (RQF) awarded through Qualsafe Awards, one of the largest Ofqual recognised Awarding Organisations in the country. You can therefore be sure your Due Diligence obligations as an employer are met.
Check out book online for all current dates and to make booking online. Alternatively call 01664 560483 or email sales@skillset-fa.co.uk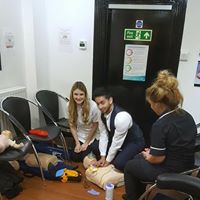 First Aid Training in Leicestershire and the Midlands
Skillset First Aid provide first aid training to individuals and groups either at our Melton Mowbray training facility or at clients own premises. Whatever, your training need, Skillset First Aid can help.
Call 01664 560483/07455 390301 or email sales@skillset-fa.co.uk